As I drink the last drops of a bottle of wine, I notice that the intense pain in my legs has turned to a rather pleasant tingling. This is good. I have developed a rather close relationship with my feet in the past couple of days. Every evening I massage them, I tend to the numerous sore and bloody spots and I tell them sweet lies which promise that tomorrow will be better. They have slowly become the most important part of my body and I'm finally starting to appreciate how much I rely on them and how fragile they really are. I guess the next step is giving them proper names.
The six hours traveled today were mostly through beatiful forests with narrow trails and fields with proper roads, but offering no cover from the scorching sun. I now get why many pilgrims choose to start traveling at 6 AM. Until 10 AM, this time of the year at least, Spain is shrouded in fog. When the fog rises and the sun takes over, the chill quickly transforms into pilgrim-melting heat. Besides the friend I'm doing the pilgrimage with, I expected it to be a solitary affair, just me and the road. Far from it. There are hundreds of pilgrims and some are constantly in sight, in front of you, looking back, behind you, blindingly following when you make a wrong turn, or right beside you, sharing the, sometimes very interesting, story of their lives.
I eventually arrived in Palas de Rei and, as in Portomarin, was lucky enough to get one of the few beds left in an albergue. I'm sure that all are fully booked after 4 PM. Once I checked in, prepared and subsequently ate a massive chicken salad which would have easily fed four people, I went outside wanting to read a bit in the sun. I didn't read, but I had a really nice conversation with an Irish couple. We mostly complained about how much our feet hurt.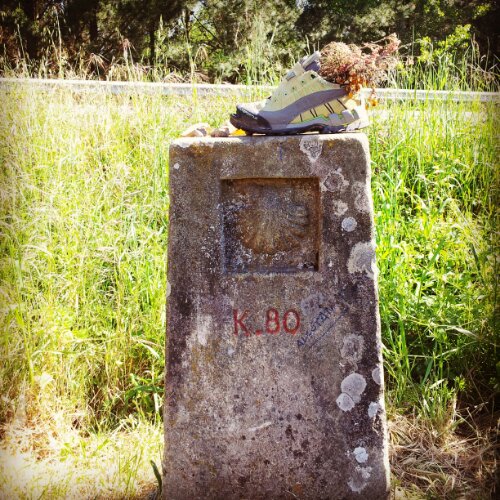 El Camino claims another victim.