After waking up in Sarria, the real journey started. With a backpack now weighting around 10 kilograms, a pain du chocolat in my stomach, a carefree mind and an eager spirit, I started trekking towards the next waypoint, Portomarin. The journey was amazing, taking us through forests, fields and villages, constantly meeting and occasionally chatting with other pilgrims, always with a friendly "Buen Camino" greeting. The way is well marked, with yellow arrows at every intersection and with other albergues offering opportunities to rest doing the way.
I learned some very important lessons today. 1. Never underestimate the importance of a few, cleverly picked cereal bars. 2. You cannot walk long distances in flip flops, slippers, or any other summery footwear, no matter how hot it is outside. 3. Wear sunscreen. Often. And wear a light colored hat. Otherwise the sun will make sure you never finish your journey. 4. And probably most important – when you see a herd of cows ahead on a narrow road, wait and check if the full herd is assembled before marching on. Otherwise you find yourself trapped between two equally large herds quickly converging into one, who could not care less that some non-cows, in this case humans, are trapped in the middle, in a sea of cows, flies and manure.
I learned the second and the fourth lesson the hard way. After walking for 6 hours and covering 24 kilometres through all kinds of terrain, under a burning sun, I eventually reached Portomarin, proceeded to check in in another albergue, bought a massive amount of food which disappeared unsurprisingly fast and acquired that wonder of modern hiking technology, the walking stick, I am now in a moderately comfortable bed, ready for total collapse.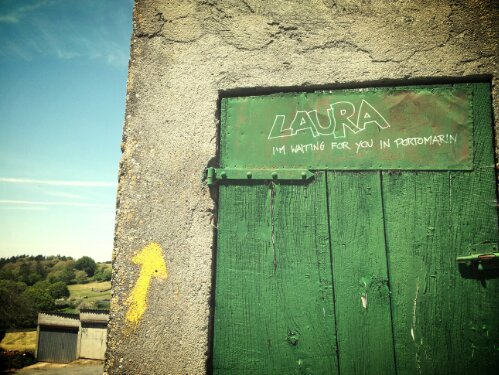 Laura, I would have waited for you there.