I don't know if I should still be counting the days as today I traveled by bus to Santiago. My pilgrimage is pretty much over. After a final visit to the cathedral tomorrow I'm flying to the next part of my adventures. I'm doing it until then though. Fourteen is a good number to end this story with.
Today I visited Muxia. I actually spent two and a half hours watching the ocean's waves break on the rocks, but after checking out the church and the lighthouse I decided that this view, nothing short of amazing, was the best that the city would offer me. Later, while waiting for the bus to Santiago, I enjoyed, over a beer, the company of a drunk Spanish old man, singing "La Bamba". I would have joined in, but, unfortunately, singing is not one of my gifts.
What have I learned in my pilgrimage? Well, I learned how to estimate how much I can eat in one meal a lot better. I learned, the hard way, that one must pack light for long journeys. A guy from the albergue in Muxia picked up my pack and, thinking that I'm just starting the pilgrimage, advised me to lose some things since I won't be able to travel with one so heavy. I learned that it's worth spending a little more energy to find the right place for the night. I learned how important my feet and actually all of my body parts are. I need to take better care of it. I learned that sunscreen in Spain is like an umbrella in England – a necessity at all times. And finally I learned that there are more good people than bad people out there and that I should never hesitate to engage in a random conversation with a stranger. Worst case scenario, I'm rebuffed and it's only their loss. Best case, I get to hear wonderful stories and maybe even learn something new.
Reflecting upon the pilgrimage itself, I find that it could easily be compared to Pokemon. You travel from place to place and collect stamps on your pilgrim's passport. When you reach certain destinations, if you've traveled far enough and collected enough stamps, you get a certificate acknowledging your efforts. I have numerous stamps and all of the certificates available: the Compostela from Santiago, the Fisterrana from Finisterre and the Muxiata from Muxia. I guess that I've caught them all, but this really isn't what the pilgrimage is supposed to be about. It's a spiritual journey, a challenge of the mind and body and, at the end of the day, an adventure. Today I spoke with a French guy who had been traveling for two months and two days. More than 1750 kilometers. This guy certainly isn't doing it for the certificates. I'll try and climb a mountain next, or maybe travel by bike across Europe. I don't know exactly what the next challenge will be, but I hope it will be at least as amazing as this one.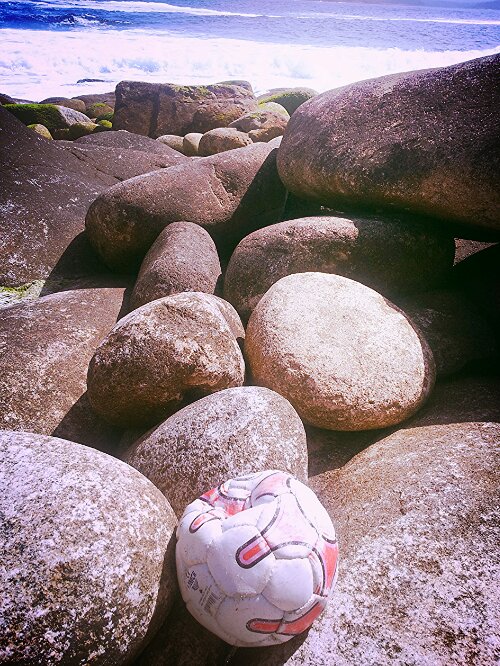 Wilson, is that you?