Wherever I go, I enjoy walking and discovering a place at my own pace. I walk a lot. The experiences of the Camino, although exhausting, have not robbed me of my passion for extreme promenading. In the seven days I have spent so far in Barcelona, I have walked an average of 7 hours per day. One of my favorite activities, whenever possible, is getting lost in places. My inner compass is not that great and, usually, after randomly strolling for around an hour or so in a city, I manage to find myself with no idea where I am and with no point of reference as to where I started from. Barcelona is the perfect place for this. With narrow, winding streets and relatively tall buildings, I got lost, most of the times on purpose, almost every day. I find that only with the slight panic, brought by the unfamiliar surroundings and the potentially dodgy areas, are my eyes truly open. With just a pinch of adrenaline in my system, I suddenly notice the small details, like names of streets, the way people act, the random architectural quirks of the buildings, the way someone put clothes out to dry, the girl painting a graffiti in a side alley and many other aspects of life that my unconscious mind annoyingly registers as inconsequential.
I walked, I believe, every street of El Barri Gotic. I saw the cathedral, the churches, Santa Maria del Mar and Santa Maria del Pi. I saw La Sagrada Familia and wondered why, from the moment Gaudi drew the plans for it, has any church or cathedral been built differently. I saw the Juan Miro foundation and remembere that art is fundamentally an idea. Good art reflects the society it is created in, while great art changes that society and anticipates and precipitates what the world will revolve around in the next cycle. I saw the National Art Museum and the people gathered in front of it, waiting for the weekly show of the "magic fountain", a spectacle of water and lights, which adds an extra objective on the map on any self respectable Barcelonian tourist.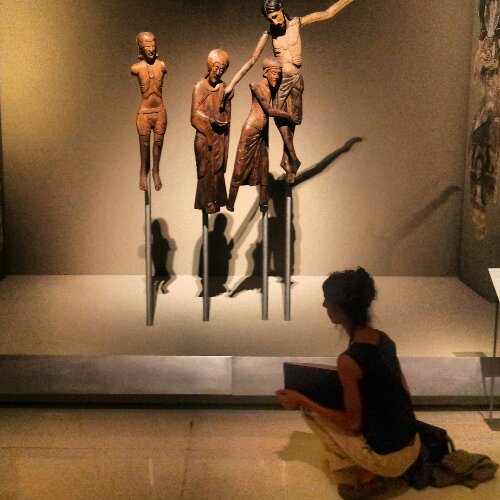 Barcelona is the city of Gaudi's architecture, long stretches of Mediterranean beach, mouthwatering food, great art, beautiful museums, hot summers and gorgeous girls. It's the kind of place where one should want to move to. There's even a fountain I accidentally drank from which promises that whoever drinks from its waters will return to Barcelona. Thus, it's a puzzle to me why this city doesn't attract me. It has everything it needs and more. Why then did I feel more at home when I first walked the streets of London, still my favourite city in the world. Or why does it lack that certain "je ne sais qoui", which fascinated me in Prague? I don't know. Maybe because I'm exploring it alone, but I don't think that's it. Maybe it's because I find it slightly pretentious in its artistic displays, resonating with a part of me which I've repressed for a long time. I still have some time here and I hope I'll figure it out. It's definitely me, not the city, and it's quite bothering that I can't identify what in me is incompatible with Barcelona.
To conclude, my thoughts go to a friend of mine about whom whenever I think, I realise that in life, we can either struggle to find out the answers to all the small questions, or we can strive to figure out what the important questions are. And, hopefully to make you smile, here's a story. I was walking the streets close to La Rambla, where I live during my time here, and I was accosted by a prostitute. Interesting experience, first time for me. As I was walking away from her "Pssst, guapo, good time?", one of her workmates, in the tone of a question whose answer is already known, asks "Nothing yet tonight, girl?". I continued to walk away, smiling this time, as I had finally heard my own language spoken on the streets of Barcelona.